Jolly LLB 2's music is really enjoyable with songs likely to blend in well with the story.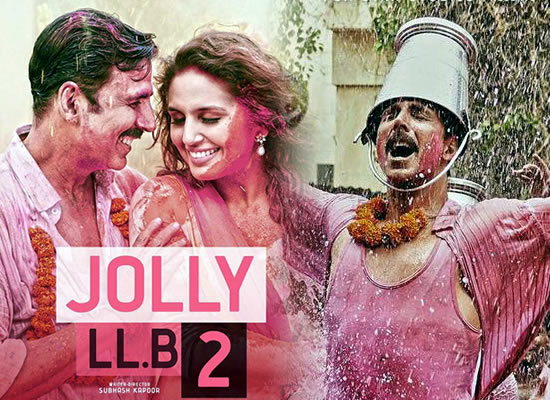 The soundtrack of Jolly LLB 2's duration is just 15 minute with only four songs in there. That makes it an average of less than four minutes per song and could well be one of the shortest ever albums of an Akshay Kumar movie. As a matter of fact his last release Rustom was spread over 35 minutes with as many as 10 tracks in there (many of which were reprise/different versions though). However, coming back to Jolly LLB 2, a couple of songs from the movie have already been disclosed.
The album begins with song Go Pagal. Put together by Manj Musik, this one has Nindy Kaur giving worthy company to Raftaar behind the mike. Together, they bring in a lot of 'raftaar' to this fast paced song which doesn't have a single dull moment, keeps the feet tapping right and is just right for a festive outing.
The next song Bawara Mann is a romantic number. Though one waits to see whether Chirrantan Bhatt composed and Junaid Wasi written Bawara Mann will reach there as well or not, one has to acknowledge the fact that as singers, Jubin Nautiyal and Neeti Mohan really do well behind the mike. Now if only the overall styling and presentation of the song had been a slight well, 'Bawara Mann' could have been all the more pleasant.
The next one is Jolly Good Fellow. Over the years one has heard this much famous tune in numerous outing, particularly in Hollywood movies. Now the traditional celebration tune is adapted by Meet Bros for this title track where they also step in as singers. Written by Shabbir Ahmed, this one has the coming together of 'desi' fun in a 'videshi' tune that blends in rather flawlessly. While Purnima Solanki and Sanchiti Sakat provide support as the female vocalists, Shabbir Ahmed and Earl Edgar chip in with Hindi and English rap portions.
The next one is a Sufi number O Re Rangreza. Now Jolly LLB 2 is no different as Vishal Khurana is trusted with the job of putting together a 'qawalli' O Re Rangreza. Though this one has Sukhwinder Singh leading the show from the front with Murtuza Mustafa & Qadir Mustafa chipping in, somehow the song hardly comes across as situational. Junaid Wasi's lyrics are in line with the proceedings on screen and one can expect them to take the story forward.
The Music of Jolly LLB 2 is really entertaining with songs likely to blend in well with the story. The songs Go Pagal, Jolly Good Fellow and Bawara Mann are harmonious and energetic numbers.