Vicky Kaushal opens up on Ranbir Kapoor's 'hatke' and 'bachke' qualities!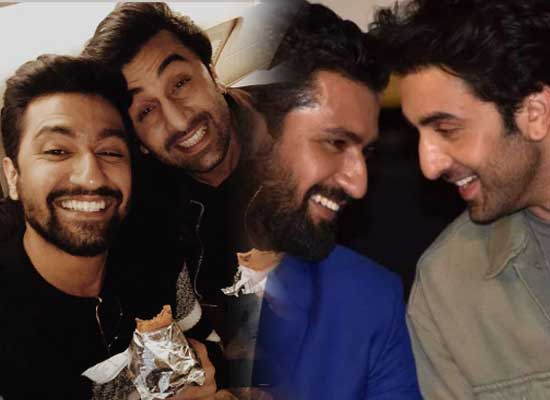 Vicky Kaushal and Sara Ali Khan have been actively promoting their just-released Laxman Utekar flick Zara Hatke Zara Bachke. Sara and Vicky have been heavily promoting the movie, engaging with their followers and doing interviews. Vicky Kaushal was recently questioned about one 'hatke' and 'bachke' attribute of his Sanju co-star Ranbir Kapoor.
When questioned about Ranbir Kapoor's 'hatke' trait, Vicky Kaushal revealed to a daily that he is an incredibly secure person. "Ranbir is one of my favourite actors. Ranbir ki sabse hatke cheez ye hai that he is incredibly secure as a person and as an actor. He is incredibly secure. And wo jab kisi role ke liye mehnat karte hain, jo efforts karte hain, wo kabhi bhi set pe nahi leke aate. Wo kabhi jataate nahi ki dekho itni mehnat kar raha hu main as an actor. (Whatever efforts he puts in for a role, he never brings it to the set. He never portrays how hard he is working as an actor). He doesn't take that seriously. Jo bhi karte hain wo chupke se peeche se karte hain and he only delivers on set. Which is fantastic," revealed Vicky Kaushal.
Speaking of Ranbir's 'bachke' quality, Vicky remarked that the actor frequently confided in him information that he insisted on keeping private. Vicky claimed that he afterwards discovered Ranbir had made the same remarks to numerous other people.
"Bachke cheez would be wo kai baar aapko bol denge ki 'Yaar sun main tereko ek cheez bata raha hun, kisiko mat batana. Main sirf tereko bata raha hun. Kisiko mat batana.' And tumhe tension hojati hai ki kahi baahar nikal gayi ye baat toh mera bill phatega ki maine kisiko bola hoga. Phir tumhe realize hota hai ki kam se kam 150 logo ko pata hai ye baat already. Aur ye 150 logo ko inhone bola hua hai ki kisko mat batana bhai maine sirf tujhe bataya hai. (Bachke trait would be that many times he would tell you 'Listen, I'm telling you something, but you cannot tell it to anybody. I'm only telling this to you. Do not tell anyone.' And you're worried that if it ever comes out, he will think I have leaked the information. Then you realize that he has said this exact same thing to at least 150 others as well)," further revealed Vicky.
Ranbir Kapoor and Vicky Kaushal collaborated on the 2018 movie Sanju. Ranbir most recently made a cameo role in Govinda Naam Mera, a movie starring Vicky.