Alia Bhatt to share a beautiful sun-kissed pic!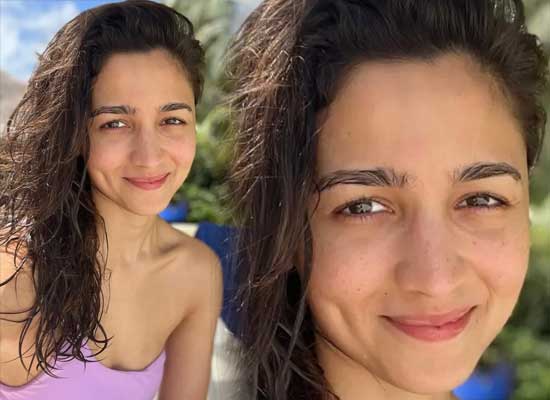 Despite not being the most active celebrity on social media, Bollywood actress Alia Bhatt occasionally surprises her 77.6 million Instagram followers with beautiful images of herself. Alia Bhatt tweets all kinds of funny selfies and priceless moments with her family and friends, and they quickly go viral! Fans were in amazement after the actress tweeted a stunning selfie without makeup on Wednesday morning. She also included a humorous caption that most of us can relate to along with the picture!
Alia Bhatt shared a beautiful beach selfie on her Instagram page. The actress may be seen in the photo with wet hair and flashing the camera a smile worth a million dollars. She can be seen in the photo without any makeup or filters, and she is donning a purple one-shoulder bikini. We can make out some trees and lounge chairs behind her despite the background's blurriness. She included a humorous caption, demonstrating how much she adores taking selfies.
"2.3 seconds after I'm left alone," wrote Alia, excitedly revealing the fact that she starts taking selfies right away when she is left alone. "Cuteness patootie," read one comment on Alia's post, while another comment read, "Itni pyaari ladki." Fans couldn't stop gushing about how adorable she was!