Big B shares a loveable pic of him meeting his fans!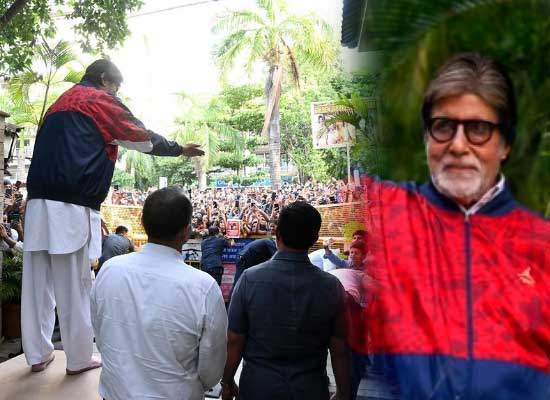 One of Bollywood's most adored actors is Amitabh Bachchan. After over three decades in the industry, his stardom is unaffected. The support he received from his supporters back then is still present, and it has even gotten stronger over time. For his followers, it has become something of a ritual that Big B walks out on his balcony every Sunday and waves and greets them. However, did you know that the megastar walks barefoot when he meets his fans?
Big B posted a lovely photo of himself meeting his followers on his Instagram account. He can be seen donning a black jacket over top of a white kurta-pajama. He is on a raised platform and has reached out his hands to the group of people waiting to catch a glimpse of him. The megastar's naked feet are seen in the image itself. Sharing this pic, he wrote, "they ask me somewhat contentiously .. 'who goes out to meet fans bare feet' ? I tell them : 'I do .. you go to the temple bare feet .. my well-wishers on Sunday are my temple' !! 'You got a problem with that !!!'"
Big B is now filming Section 84 in the meantime. Additionally, he is working on the Prabhas and Deepika Padukone film Project K.