Kiara Advani-Kartik Aaryan's happy moments at Satyaprem Ki Katha trailer success party!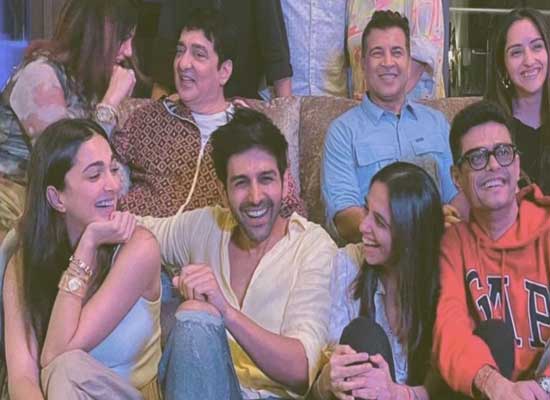 One of the most eagerly awaited films of the year is Satyaprem Ki Katha, starring Kiara Advani and Kartik Aaryan. Fans were in awe of Kiara-Kartik's chemistry, the gorgeous images, and the soulful music after the movie's trailer debuted yesterday. The trailer got a lot of positive feedback and went viral on social media. Last night, the cast and crew of Satyaprem Ki Kath gathered at producer Sajid Nadiadwala's house to celebrate the phenomenal success of the trailer. The paparazzi caught a glimpse of Kiara and Kartik as they arrived at the party.
Kartik Aaryan posted two images from the party on his Instagram page. The cast of Satyaprem Ki Katha, including Kartik Aaryan and Kiara Advani, co-producers Shareen Mantri, Kishor Arora, and writer Karan Sharma, as well as producer Sajid Nadiadwala and his wife Wardha Nadiadwala, attended the trailer's success celebration. Kartik Aaryan posed next to Kiara Advani in the photos he posted on Instagram while the rest of the cast gathered around them. Everyone looks quite happy, and in one photo, Kiara, Kartik, and the team can all be seen laughing about something. The spontaneous photos from the party are just too cute!

Sharing the pics, Kartik Aaryan wrote, "Couldn't sleep last night because of nervousness and didn't sleep today because of happiness High on Love."