Shanaya Kapoor, Suhana Khan and Rysa Panday to enjoy Karaoke night!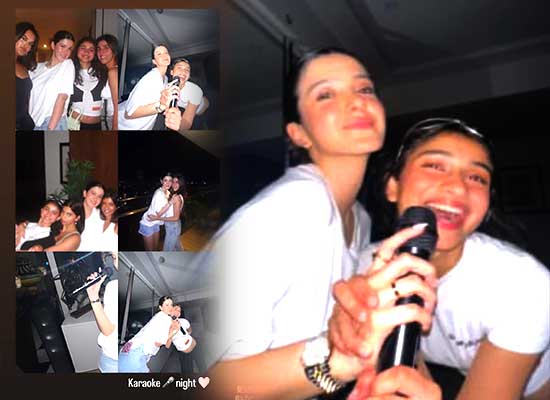 Suhana Khan, the daughter of Shah Rukh Khan and Gauri Khan, gets along well with Shanaya Kapoor, the daughter of Maheep and Sanjay Kapoor. Since they were young children, Shanaya, Suhana, and Ananya Panday have been close friends. The group is usually spotted together. In addition to Ananya, Shanaya, Suhana, and Rysa Panday get along well. This past weekend, Shanaya, Suhana, and Rysa had a great time singing karaoke with their pals. Shanaya has since shared some highlights from the enjoyable evening.
Shanaya Kapoor shared a collage of photos from a fun-filled karaoke night with her friends on her Instagram stories. Suhana is pictured in the collage holding Rysa in her arms as they stand next to Shanaya. Shanaya and Rysa might be seen singing together in another image. Shanaya can be seen standing alongside her other friends in other photos. For the enjoyable Karaoke night, everyone is dressed casually, and Shanaya is seen donning a loose white t-shirt and a pair of blue denim shorts.
"Karaoke night," wrote Shanaya, while tagging Suhana Khan, Rysa Panday and their other friends.